ADULT BOOK CLUBS
Join an adult book club at Cromaine Library! We are happy to supply a selection of physical books for the book clubs listed below. Book Club Members are welcome to purchase a digital version if they prefer.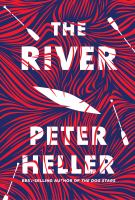 Fiction Book Club
Thursday, July 25 at 7:00 pm
Current Book:
The River by Peter Heller
Join us the fourth Thursday of the month for a lively discussion of fiction books. Drop-in.
Hoopla Digital Book Club
Ongoing, Changes Quarterly
Current Book:
The Gone Dead by Chanelle Benz
A new resource for book clubs, the hoopla Book Club Hub gives readers access to eBook and Audiobook copies of a specific title each quarter. Discussion guides, recommended next reads, author interviews, and other resources are provided to compliment the selection.
Mystery Book Club
Tuesday, August 13 at 7:00 pm
Current Book:
Watcher in the Woods by Kelley Armstrong
Join us the second Tuesday of the month at the Library for a discussion of mystery and intrigue. Drop-in.
20- and 30-Something Book Club
Tuesday, September 3 at 7:00 pm
Current Book:
The Love and Lies of Rukhsana Ali by Sabine Khan
Open to adults in their 20s and 30s, this relaxed book club is the perfect place to meet new people and discuss books of all genres.
Non-fiction Book Club
Thursday, September 12 at 7:00 pm
Current Book:
An Elegant Defense by Matt Richtel
Open to adults 18 years old and up, the non-fiction book club meets monthly to discuss various types of non-fiction books. Register online or by phone.
---
VIEW ALL UPCOMING BOOK CLUB DATES
All of our book clubs are listed on our Calendar of Events. To attend, choose your desired club and register!